FOR IMMEDIATE RELEASE
Contact: Ron Clark
508-246-8589 (c)
etourchatham@gmail.com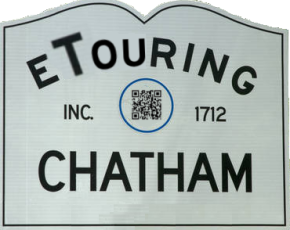 eTourChatham
Smartphone Tour Debuts March 6, 2012.
Discover or re-discover Chatham with new Smartphone Tour

Chatham, March 6, 2012. Chatham's new smartphone tour goes online with the first set of interesting locations around Chatham in time for the town's Tercentennial Opening Weekend. All of the historic locales that are open on Saturday March 10 as part of the Opening Weekend are on the eTour. All the other locations around town where new historic plaques have been installed by the 300th Committee are also on the eTour. The centerpiece of eTourChatham is the "Chatham Highlights Tour", with a total of 35 points of interest on this initial release, which is located on the web at www.etourchatham.org.
Using a smartphone, such as an iPhone, Android phone, or Windows phone, one can visit points of interest around Chatham and learn about each site's history or significance. Informative tracks about each site are available in both text and audio format, so it can be used as an audio tour if desired. Some sites have additional "in-depth' pages that focus in more detail on some aspect of the site's story. The tour is self-guided, with a slogan of "Find Your Way Around", because the points of interest can be visited in any order, depending on the tourist's interest and whether the means of transportation is car, bicycle, or foot. A smartphone with a builtin GPS can be used for both navigation and information.
Following the same concept as the Chatham Highlights Tour, which ranges all over town, two additional mini-tours (called min-eTours) are also available as smartphone tours of specific areas - one is on the grounds of the Atwood House Museum, where a variety of interesting displays are located, even when the museum is closed. The other is a smartphone version of the Monomoy National Wildlife Refuge's Morris Island Nature Trail, a walking trail around that portion of the Wildlife Refuge located on Morris Island. These also illustrate the types of additional tours that can be done using eTourChatham - a specific site, or a neighborhood walking tour; more min-eTours are planned for the future. More locations will also be added to the Chatham Highlights Tour in time for the summer visitors season.
eTourChatham is free on the web; although it is designed for use with a hand-held smartphone in the hands of a person actually visiting each site, the content is on a website that anyone can see with any computer by going to etourchatham.org. eTourChatham is a private project being done to honor Chatham during the Tercentennial celebration. Numerous individuals in Chatham have helped with content and review; they are listed in the credits section of the tour. There are no ads. Spreading the word about eTourChatham will make use of a Facebook page and a Twitter feed, as well as YouTube video(s) showing the tour being used. The social networking companions to eTourChatham will be linked from the home page of the site, as well as from other pages within the eTour. Promotional material will be available at Chatham's Visitors Centers, and will feature a QR code, which can be scanned using a smartphone to jump immediately to the eTourChatham website.
This press release is available online at http://www.etourchatham.org/press_release2.html