FOR IMMEDIATE RELEASE
Contact: Ron Clark
508-246-8589 (c)
etourchatham@gmail.com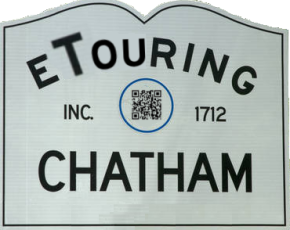 eTourChatham: New Chatham Smartphone Tour
eTourChatham will look forward and back for historic tercentennial tour
For Planning Purposes
Chatham, January 9, 2012. A new 'smartphone tour' in Chatham will use modern wireless technology to inform visitors of the town's many historic points of interest, including the site where "wireless" meant receiving telegrams over the airwaves almost one hundred years ago. The smartphone tour will exploit new phones and tablet computers that stay connected to the internet to allow the tourist to locate and learn about a wide variety of interesting sites, buildings, and scenic locations around the town. The tour is called eTourChatham, and a 'Demo' version is on the web now at www.eTourChatham.org
The tour will be "self-guided" because the points of interest can be visited in any order, depending on the tourist's interest and whether the means of transportation is car, bicycle, or foot. Using a smartphone for both navigation and information, a tourist on bike or foot need not carry along any extra material. Informative tracks about each site will be available in both text and audio format, so reading the small screen of a smartphone is not necessary while looking around each location.
The centerpiece of eTourChatham will be the "Chatham Highlights Tour", which will feature over 75 points of interest all around Chatham. A demonstration version of this tour is online now, featuring only four locations, but the structure and concept are visible. The first phase of the "Chatham Highlights Tour" will go online prior to the Opening Weekend of Chatham's 300th celebration, and will provide a tour of 30-40 locations, including all those where new 300th Celebration plaques are being installed. Additional sites will be added to the tour by the start of the summer visitor season.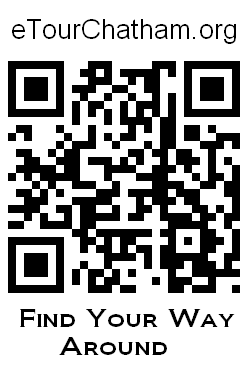 eTourChatham will utilize the latest 21st century technologies to allow people to explore Chatham's past. Visitors will see information about eTourChatham that includes the QR code shown here, which smartphone users can scan to jump right to eTourChatham on their phones. This QR code will be included in promotional material such as the Chamber of Commerce's Chatham Visitors Guide. News of updates and new locations on the tour will be shared using Facebook and Twitter. Links to social media will be on the tour pages, so visitors can spread the word about eTourChatham.
This press release is available online at http://www.etourchatham.org/press_release1.html